27-01-2016, 14:00
Pacific Fleet military ships came back to Vladivostok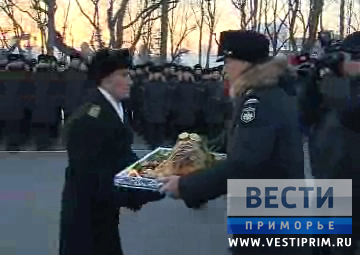 After successful completion of the militant mission the Pacific fleet military ships came back to Vladivostok.
The welcoming ceremony for crews and ships was held in the waterfront street.
Pacific fleet command, representatives of Primorye and Vladivostok municipal government, relatives and friends came to welcome the sailors.
- Deputy Commander of the Pacific fleet! 36 ship groups came to participate the ceremony!
In three months of the Pacific fleet ships have been in the Pacific Ocean, Indian Ocean, four countries in the Asia-Pacific region.
YULDASHEV • ALEKSANDER, Primorye fleet deputy commander: "We were working in a very poor weather conditions, and today I would like to thank the sailors, officers, navy warrant officer, staff. Only working together we can successfully complete our mission."
Under the command of YULDASHEV • ALEKSANDER in November 2, 2015 the ships left Vladivostok city and went to the Indian Ocean. 12 Feb. 6 - Dec. 12 ships came to Weizhajiapa Chatham Harbor (Republic of India). In Weizhajiapa Chatham Harbor our military ships and the Indian military ships took part in the "INDRA NEVI-2015" naval training.
During the welcome ceremony each member of the Pacific Fleet naval ships got a roast pig. The best members got the best expensive gifts and certificates.
Navy Pacific Fleet members said: "We were miss the land every time. Now we had loved with it!"
페이스북 페이지에 "팔로우"를 누르시고 빠른 소식을 받아보세요!
사진 출처: "Вести:Приморье" [ www.vestiprim.ru ]