31-10-2016, 17:55
Influence of tourism sphere on development of the internal infrastructure and entrepreneurism of Primorsky region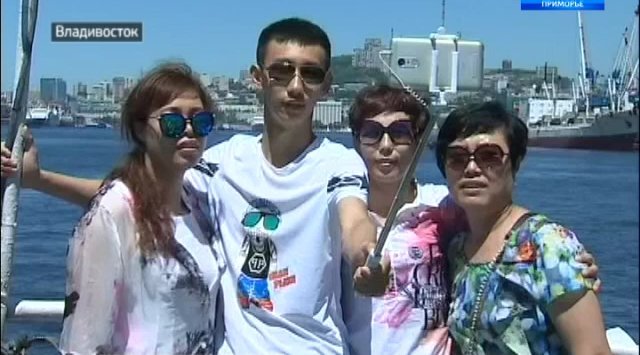 According to the head of Tourism department of Administration of Primorsky region, Konstantin Shestakov, tourism contributes into the development of many sectors of the economy. Recently, we can see a large number of tourists in the city, especially in the city center. These tourists visit sightseeing attractions of the city and shops. Special bus stops have been created for tour buses. This provides more comfortable environment for tourists.
The more comfortable conditions we provide to our tourists, the more tourists we get. At present, most of our tourists are from China.
Jin Guanyun, a tourist from China says: "That is the first time we have got a chance to travel together with the family. We would really like to travel a lot, fortunately, we have saved enough money for this, and so decided to start from Vladivostok. "
Liu Xiaohu, a tourist from China says: "The air here is very pleasant and clean, here I like everything! Sometimes, though, it is difficult that no one, besides tour-gides, speaks Chinese language, and if interpreter is not around there is no chance for communication".
To attract customers, services sector's enterprises have to match requests of Chinese visitors. Many hotels and restaurants get "China Friendly" certificate. To obtain this certificate, companies should translate all signs and menus in Chinese, accept Union Pay cards and so on. Some hotels even attract volunteers that speak Chinese.
Development of cruise tourism is very important to Primorsky region. More and more ocean liners visit Vladivostok. Not long ago, "Pacific Venus" has visited Vladivostok city. This time mostly Japanese tourists have been on board of the liner.
Besides sightseeing attractions, Japanese guests have visited Primorsky region filiation of Mariinsky Theatre. For guests special benefit, some changes have been made in the theatre programme and "The Nutcracker" was performed to the visitors. Heavy applause showed that the performance has affected every guest.
According to the head of Tourism department of Administration of Primorsky region, Konstantin Shestakov, about 11 ocean liners will visit Vladivostok within next year. There is a possibility that the quantity of liners will increase. This year Chinese oceanic liner "Chinese Taishan" has visited Vladivostok for the first time - it is a great achievement for us.
Starting this year Zarubino port can receive foreign tourists, tourists are allowed to have visa-free entry for no more than 72 hours stay.
In addition, it was decided to undertake some work on deepening of Vladivostok port. That will allow to accept all kinds of vessels.
Besides, some changes have been made in our legislation and now the owners of small vessels have an opportunity to obtain an appropriate license to carry passengers.
All these measures should help to develop tourist sphere in our region.
페이스북 페이지에 "팔로우"를 누르시고 빠른 소식을 받아보세요!
사진 출처: www.vestiprim.ru