29-09-2016, 17:22
Asian cuisine in Primorsky region.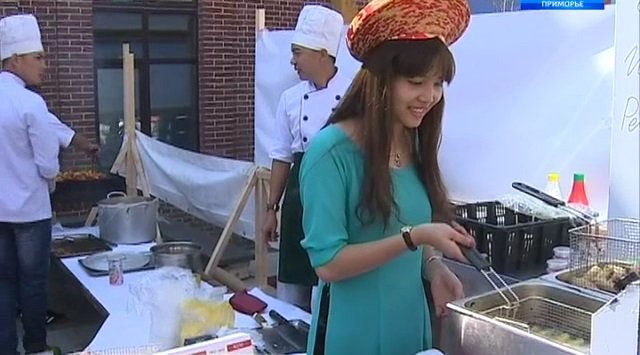 Asian cuisine is very popular in Primorsky region.
During Vladivostok's second tourism and cultural festival, residents and guests of Vladivostok had an opportunity to taste Vietnamese food. Vietnamese chef was telling secrets of ribs barbecue. Ribs should be marinated before making barbecue. During the festival guests could also try noodles soup, mushrooms, shrimps, beef or chicken meat can be added to such soup to make it taste better. There is also Vietnam's most famous dish - Nem. Nem is a Vietnamese kind of spring rolls, made of rice flour; shrimps, pork and local vegetables are used as filling. These rolls should be deep-fried and eaten with a fish sauce.
Many restaurants of Vladivostok city are offering Chinese food to their guests, the most famous dishes a Gobaorou and eggplant - shrimp salad.
Pork, onion, carrots, oil, sugar, apple vinegar, ginger, pineapple, starch are needed to make Gobaorou. By mixing starch with water in a small bowl make a batter. Let it ingrain for about 30 minutes. Cut pork in thick slices; add some salt and pepper. Drain the starch and put the batter in to the meat, mix everything well. Pour some oil into the pan and put all the meat in to the pan. When it is deep-fried, remove it from the pot. Leave some oil in the pot, add ginger, carrots, onion in it, mix all together and add pineapples, sugar, apple vinegar, salt and a little bit of tomato paste. Mix everything well and put in to the bowl with meat, mix all together again. It is done.

To make salad you need eggplants, green peppers, parsley, onions, eggs, shrimp, sugar, soy sauce, sesame, starch, flour and mayonnaise. First do salad sauce: sugar, salt, sesame seeds, sesame oil put into the bowl and mix well. Then, cut all the vegetables into thick slices, except the eggplant, and put into a bowl. Peeled eggplant, cut into pieces, put into a pan, add dryed starch and fry well. Then take out of the pan and put the shrimps into a pan, add egg albumen, starch, and fry for a while, add flour, when shrimps are fried well mix all the ingredients in one bowl and mix well.
페이스북 페이지에 "팔로우"를 누르시고 빠른 소식을 받아보세요!
사진 출처: www.vestiprim.ru