22-08-2016, 12:00
Modern golf simulator playground has sprung in "Primorye" gambling area. Playing on such playground is few times cheaper, and the weather cannot ruin the plans.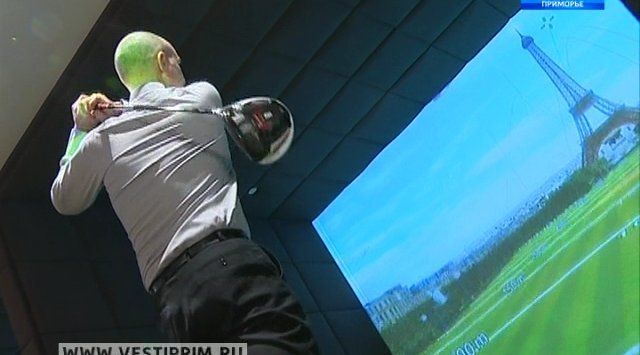 All the world's best golf courses in one place. Modern golf simulator allows playing golf near the Eiffel Tower or on the Scotland golf courses. A small room replaces several hectares of the real course.
Masterclass from the Scotsman, and at the same time director of the first casino in "Primorye" gambling zone is a great luck. At the opening of the playground Craig Ballantyne talks about its capabilities: it is possible to set strength of the wind, rain on the computer; He also introduces the varieties of niblicks.
Craig Ballantyne, CEO of «Tigre de Cristal»: «There are niblicks for short distance shots and for a long-distance shots up to 250 m/h. Such a loud popping sound is not surprising, ball speed is over 200 km / h. But the shot is being extinguished by soft surfaces of the walls, then the ball through the gutter is being brought up for a shot again. "
Playing golf simulator, you will not become the greatest Tiger Woods, but it's a great fun for the weekend. And the weather cannot disrupt the plans. And there is even no need to walk hundreds of meters with niblicks.
In addition, playing simulator is dozens of times cheaper. However, investors are planning to build a real golf course also. Now negotiations on land acquisition are in process. According to the plan, entertaining infrastructure of "Primorye" gambling zone is being developed in different directions.
According to the information from Konstantin Shestakov, director of department of tourism of Primorsky region, outdoor swimming pool, waterworld and ski slope will be built in the gambling zone. Theaters and cinemas will also be built there. Thus, anyone will be able to find suitable entertaining activities there.
페이스북 페이지에 "팔로우"를 누르시고 빠른 소식을 받아보세요!
사진 출처: "Вести:РџСЂРёРјРѕСЂСЊРµ" [ www.vestiprim.ru ]